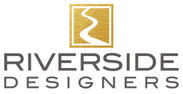 Riverside Designers
Riverside Designers considers it their lives' work to create inspirational, memorable environments. They do it with exceptional client rapport, dedicated service, and a healthy dose of talent and grace. RD's own reputation is grounded in a sincere and genuine understanding of their clients' goals: they have a knack for adeptly translating what's in a client's mind into a stunning space that perfectly reflects their ideals and intentions.

A team of professionals, led by principal interior designer and owner Jennifer Ferrell, bring combined experience and award-winning design to serve RD's clients. Jennifer, born and raised in Charleston, was destined for a career that merged her creative spirit and business acumen. She holds a degree in Interior Design from the University of Georgia and is a career-long member of the American Society of Interior Designers (ASID). She acquired Riverside Designers in 2005 at the age of 27, and has been working steadily on projects with a two-fold outcome; beautiful interiors and happy clients. Jennifer lives in a family home in Charleston, happily restoring it, with her husband and two children.

Shay Simpson Patterson joined RD in 2004 after also attending the University of Georgia for Interior Design. She lives in her hometown of Mt. Pleasant with her husband and two daughters, and recently moved into a beautifully renovated cottage with a distinctly coastal flair. Shay tackles design projects with client commitment, hard-work, and a great eye.

Jennifer and Shay are supported by their design assistants, Katie Rhodes, Morgan Patin and Erin Colwell. Katie, also a Charleston native, earned her art degree from the College of Charleston; proficient in AutoCAD, she handles space planning and project management. Morgan graduated from the University of Missouri but has since moved coastal to Charleston with the rest of us! With a passion for design and experience in interior marketing, she manages the studio's comprehensive design library and social media relations. Erin, an Alabama native and Samford graduate, brings her accounting expertise to RD's procurement and billing.

Think signature style infused with a fresh take on classic, timeless looks, and you have the trademark for which Riverside Designers has built its business, one client at a time, for the past 40 years.
SEEN LOCALLY, RESPECTED GLOBALLY
SEEN LOCALLY, RESPECTED GLOBALLY
SEEN LOCALLY, RESPECTED GLOBALLY