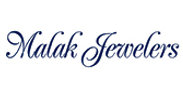 Malak Jewelers
Malak Jewelers began in the imagination of a 14-year-old Egyptian boy named Asaad Malak. He began learning the jewelry industry from his father at a young age, and in 1980, he moved to Westchester County, New York where he worked in New York's world-famous Diamond District and opened his first retail jewelry store. He later relocated the business to Charlotte, North Carolina's Arboretum Shopping Center, where the store has continued to thrive ever since.

Over the years, Malak Jewelers has become one of the Southeast's largest and most acclaimed direct diamond importers, importing diamonds precious gems, bridal and fine jewelry directly to our showroom from Tel Aviv, Israel, Antwerp, Belgium, and many other locations around the world.

"We are consultants and advisors, not salespeople." This is how Asaad Malak operates his business. Our commitment is to provide you with one of the largest selections of bridal, fine, and fashion jewelry in the Carolinas at exceptional value along with unprecedented customer service. At Malak Jewelers, we invite you to come in as a customer and leave as a friend. We vow to exceed your expectations!
SEEN LOCALLY, RESPECTED GLOBALLY
SEEN LOCALLY, RESPECTED GLOBALLY
SEEN LOCALLY, RESPECTED GLOBALLY