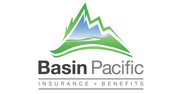 Basin Pacific - Insurance + Benefits: Stephen Haithcox
In 1997, after 15 years of experience in insurance, Gary Trautman opened the first Basin office in Moses Lake, Washington. He focused on serving people by combining solid risk management advice with quality insurance products. With this service-oriented philosophy, our office grew quickly and we have since teamed up with other like-minded insurance professionals.

Now, years later, Basin Insurance has 15 locations around Washington, Oregon, and Idaho. The company has adopted a new name, Basin Pacific, to extend the warmth of local familiarity beyond the Columbia Basin where the company was born. Our internal management philosophy is to empower like-minded individuals to make the best decisions they can. This translates to the way we work with our customers. We know it takes more than online forms to make an informed decision about something as critical as insurance. It takes a trusting relationship with someone who learns what you need and helps you get the best coverage possible.
SEEN LOCALLY, RESPECTED GLOBALLY
SEEN LOCALLY, RESPECTED GLOBALLY
SEEN LOCALLY, RESPECTED GLOBALLY