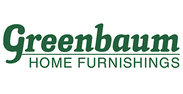 Greenbaum Home Furnishings
For over 61 years Greenbaum Home Furnishings has been providing the Greater Bellevue Washington area with beautiful furniture and great service. Our 33,000 square foot showroom displays a wide variety of furniture from brands you trust. Not only do we carry over 50 major furniture lines, but we also have an award winning professional design staff ready to help you with wall and window coverings, lighting fixtures, color coordination, accessories, floor plans and more for every room in your home. Once you have purchased everything that you need for your home decor, our experienced delivery team will make sure that your furniture arrives to your home safe and damage free. And our wonderful customer service staff is here to help you with any questions you may have. Located at 929 118th Avenue SE in Bellevue Wa. Greenbaum Home Furnishings has the quality furniture that you have been looking for! Rating: 7 out of 7 "Our salesperson was very helpful. The delivery men were on time and very professional."

Rating: 7 out of 7 "Your delivery personnel were friendly, professional and prompt! I also found the designer to be very helpful in putting a lot of effort toward satisfying our needs."

Rating: 7 out of 7 "My experience with Greenbaum was exceptional. Our salesperson was a skilled/cordial designer who helped find the "perfect sofa." Our delivery experience was perfect. The driver called the correct phone number at school and arrived at the exact minute he predicted. He was also thorough and efficient."

Rating: 8 out of 7!! "The driver was terrific! Our designer did a very good job for us! If at all possible we prefer to buy from Greenbaums."

Rating: 7 out of 7 Your entire staff from our designer and the other sales people to the delivery folks, they all do a great job which is why we keep coming back. Thanks!"
SEEN LOCALLY, RESPECTED GLOBALLY
SEEN LOCALLY, RESPECTED GLOBALLY
SEEN LOCALLY, RESPECTED GLOBALLY